The History of Jaguar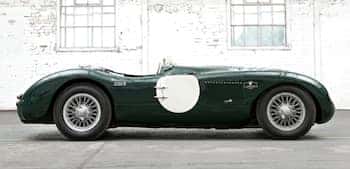 The year was 1922. Two business owners, Sir William Lyons and William Walmsley, came together and used their knowledge of metal fabrication skills from their Swallow Sidecar Company and started a car company. Not just any car company, though, a British luxury sports manufacturing company that would become an icon in the automobile industry. In 1935, the company began producing products under the name of SS Jaguar, and these vehicles were a hit both visually and technically! Unfortunately, while this company began to grow bigger, so did international conflict, and World War II was under way.
After the war, post-war production soared. The company changed their name in 1945 to Jaguar Cars Ltd, as the owners believed this name was distinctive and stood out among the rest. Jaguar was excited to announce its first post-war, stop-gap model, the Mark V. Around that time, Jaguar produced some of its most famous vehicles such as the following:
1951 – C-Type: This sleek and stylish vehicle was built with such aerodynamics, it made its successful debut in Le Mans and placed first in the famous 24-hour race.
1954 – D-Type: Being one of the first automobiles to feature a monocoque body structure, the D-Type is considered to be one of the most beautiful cars in racing history. It took home first place at Le Mans three years in a row.
1961 – E-Type: Possibly the most beautiful car ever made, the E-Type made a strong debut at the Geneva Motor Show. Strength, elegance, and beauty are just a few ways to describe it.
Our Humble Beginnings
In 1966, Jaguar Cars Ltd made a big business decision and merged with the British Motor Company, forming British Motors Holding. Just a year later, British Motor Holdings merged with Leyland Motors, becoming British Leyland. In 1984, all was changed as Jaguar became a private company. Only a few years later is what makes Jaguar what it is today.
When November of 1989 comes around, Ford approached Jaguar with an offer, which then led to a deal. Ford had also purchased Land Rover in 2000 for $2.7 million, and in 2007, Ford wanted to sell Jaguar and Land Rover together. In 2008, Ford sold Jaguar and Land Rover to Tata Motors, which is an Indian group. From here on out, Jaguar Land Rover has been manufacturing luxury vehicles that have been sold all around the world, just like when they were first founded.
In order to get behind the wheel of a Jaguar, stop by Jaguar Little Rock and call us at (833) 664-6125. The history of Jaguar is great, and we want to continue to pass on such great vehicles to each and every one of our customers.