Jaguar vs Mercedes

Both Jaguar and Mercedes-Benz offer a stylish lineup of luxury cars and SUVs. Each brand is capable of providing you with a smooth ride and an exciting drive. So, which one is the best fit for getting around Little Rock, Benton, and Conway, AR? Jaguar Little Rock put this Jaguar vs. Mercedes comparison together to help you decide. Already know Jaguar is for you? Check out our inventory online.
---
Jaguar vs Mercedes: Stylish Luxury Sedans

Looks matter when you're talking about luxury cars. If you're shopping for a refined sedan, you'll want to see what kind of first impression it makes. The Mercedes-Benz C-Class makes a solid case for itself. The hood slopes down to highlight the grille, making it more aerodynamic. The front features a silver mesh grille, a single chrome bar running across, and the brand's famous three-point star logo.
While the Mercedes brings lots of class to the table, the Jaguar XE is something else entirely. This luxury sedan gives you goosebumps with a design that's part luxury car, part racecar. Its big, black mesh grille catches your eye with a bright red Jaguar logo. The body builds on this by featuring both accent lines intake vents along the sides, before finishing things off with a subtle spoiler on the trunk.
---
Jaguar vs Mercedes: Capable SUVs

Luxury SUVs offer a terrific balance of style and dependability. With standard all-wheel drive, lots of cargo room, and an impressive towing capacity, the Jaguar F-PACE is as capable as luxury SUVs get.
Its comfortable interior features a large trunk with 33.5 cubic feet of cargo room. If you need to pack more, you can fold down the back seats and get up to 61.1 cubic feet of cargo. You can also feel confident hitching a trailer to your SUV. The Jaguar F-PACE can tow up to 5,291 pounds.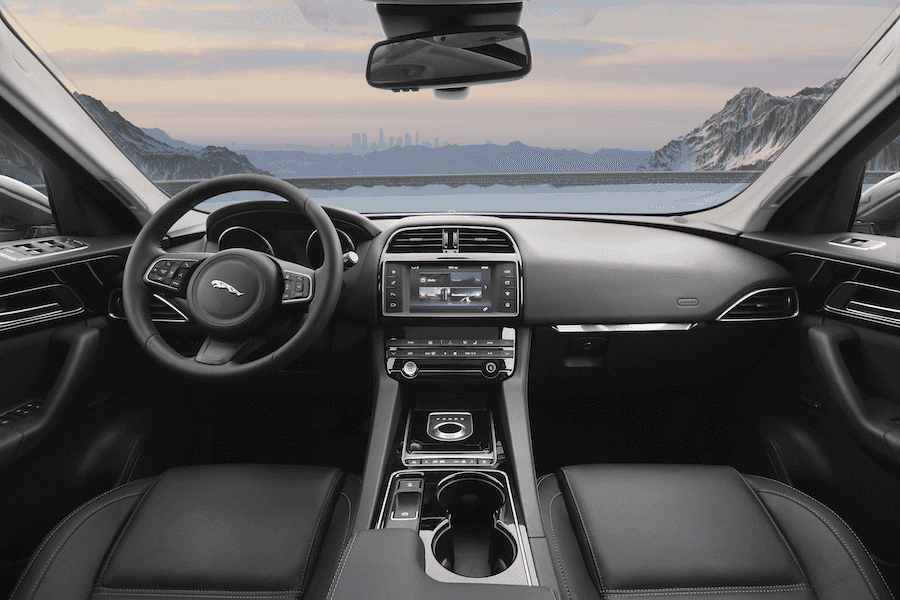 There are four powerful engines that can haul that cargo for you. The most exciting option is a supercharged 5.0L V8 that gets up to 550 horsepower and 502 lb-ft of torque.
While the Mercedes GLC is an equally attractive SUV, its front-wheel drive system isn't as capable. Plus, it can't carry as much cargo. The trunk offers only 19.4 cubic feet of space, while folding the seats down gives you just 56.5 cubic feet of cargo room.
There's not as much power under the hood either. Its 4.0L V8 engine can only deliver up to 469 horsepower and 479 lb-ft of torque. This limits its towing capacity to just 3,500 pounds.
Heard enough? Contact us today to get behind the wheel of a Jaguar.
---
Jaguar vs Mercedes: Exciting Sports Cars

If you've ever wanted to hop on the highway in a powerful sports car, these two brands have got you covered. For example, the Jaguar F-TYPE features a sleek design as both a coupe and a convertible. It also offers exhilarating performance with up to 575 horsepower and 516 lb-ft of torque. It can even go from 0 to 60 MPH in as little as 3.5 seconds.
The Mercedes-Benz SL roadster can also provide you with up to 516 lb-ft of torque. However, it's a little slower off the line. With only 449 horsepower, it takes a full 4.3 seconds to go from 0 to 60 MPH.
---
Jaguar vs Mercedes: Test Drive a Versatile Luxury Car
Visit Jaguar Little Rock to learn more about these dynamic luxury cars and take a test drive. With a bold design, powerful engines, and convenient cargo room, they're excellent options for drivers in Little Rock, Benton, and Conway, AR. Contact us to learn more about this Jaguar vs Mercedes comparison, or visit our showroom.